Unit 1: research plan, user interviews, and feature inventory

The topic
Having recently talked to a couple of friends who had gone on amazing adventures in far-flung corners of the globe with friends or partners, I wanted to know what the experience was like from a multi-user booking perspective.
How did friends book travel together? Booking travel can be enough of a pain. But if you add in other people, especially if they don't fly frequently or aren't flying from the same destinations (or any other number of issues), it becomes even more of a nightmare.
research plan
Using the research plan prompts provided, I asked my subjects a series of questions:
1. What area(s) are you interested in researching?
2. What are your research goals? What are you trying to learn?
3. Can you break your research into smaller pieces to make the scope more manageable?
4. Who is your target audience? How will you find them?
5. What are your key areas of inquiry (5 topic areas you can ask about in your interview)?
6. Do you have any hypotheses around your target audience, their behaviors, or their goals?
What do you think you already know?
interview summaries
I interviewed five friends who travelled multiple times a year for various purposes, such as for fun, for work, or for other personal reasons. I had a list of questions on various topics, such as: when and where they do their booking; who handles what responsibility when booking group travel; what they prioritize in travel; what apps or websites they like to book travel; whether they book accomodations or event tickets with their flights; and other questions to gain a deeper understanding of their experiences in travel.
INSIGHTS:
+ Google Flights, Momondo, Concur, Hopper, JetFly, Skyscanner most commonly used apps
+ Do most booking on web/laptop; feel more likely to make mistakes on a mobile app
+ Often take leadership role in booking/don't entrust the booking to friends
+ Sometimes will book one part of trip (e.g. flights) while friend books the hotels
+ Mix of people who have very detailed itineraries vs very loose itineraries
+ Send screenshots and e-mail receipts to friends to confirm details
+ Prioritizes price, arrival time, number of layovers on a trip
feature inventory

Pulling from the list of apps and websites that my subjects used for booking travel, I created a spreadsheet of features to compare the strengths and weaknesses of each one. This gave me more insight into how generalized or specialized these apps were.


Unit 2: affinity maps, personas, storyboards, and user flows
In unit 2, I began to dig deeper into the information provided from my interviews and research. I developed a hypothesis and problem statement to broaden or narrow the scope of the project.

I developed a couple of personas that were synthesized from the data collected in my interviews and research. With my personas created, I developed user flows and story boards to further develop how users would book travel.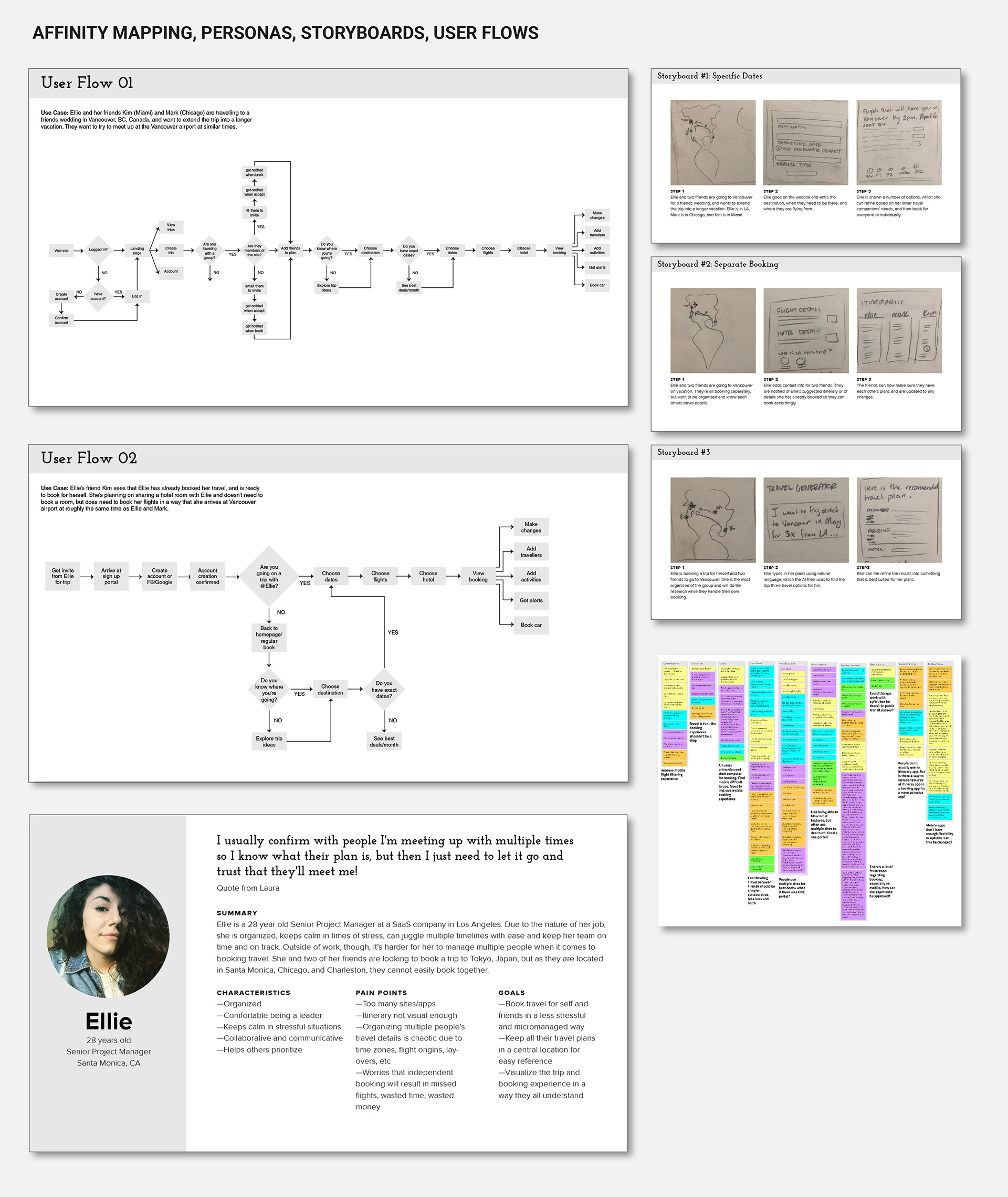 Unit 3: card sorting, paper prototypes, and revisiting the user flows
In unit 3, I had users participate in an open card sort, where they grouped various topics and words I had chosen into categories they created. This provided insight into how I could build the navigation in my paper prototypes. At this time, I also revisited my user flow chart based upon the feedback I had received.

Unit 4: lo-to-hi-fi wireframes and annotated wireframes
Based on the results of the card sorting and user flows, it was time to start wireframing. I started on pencil and paper, then created lo-fi wires and then hi-fi wires. Between rounds of wireframes, I would test the wires with my users.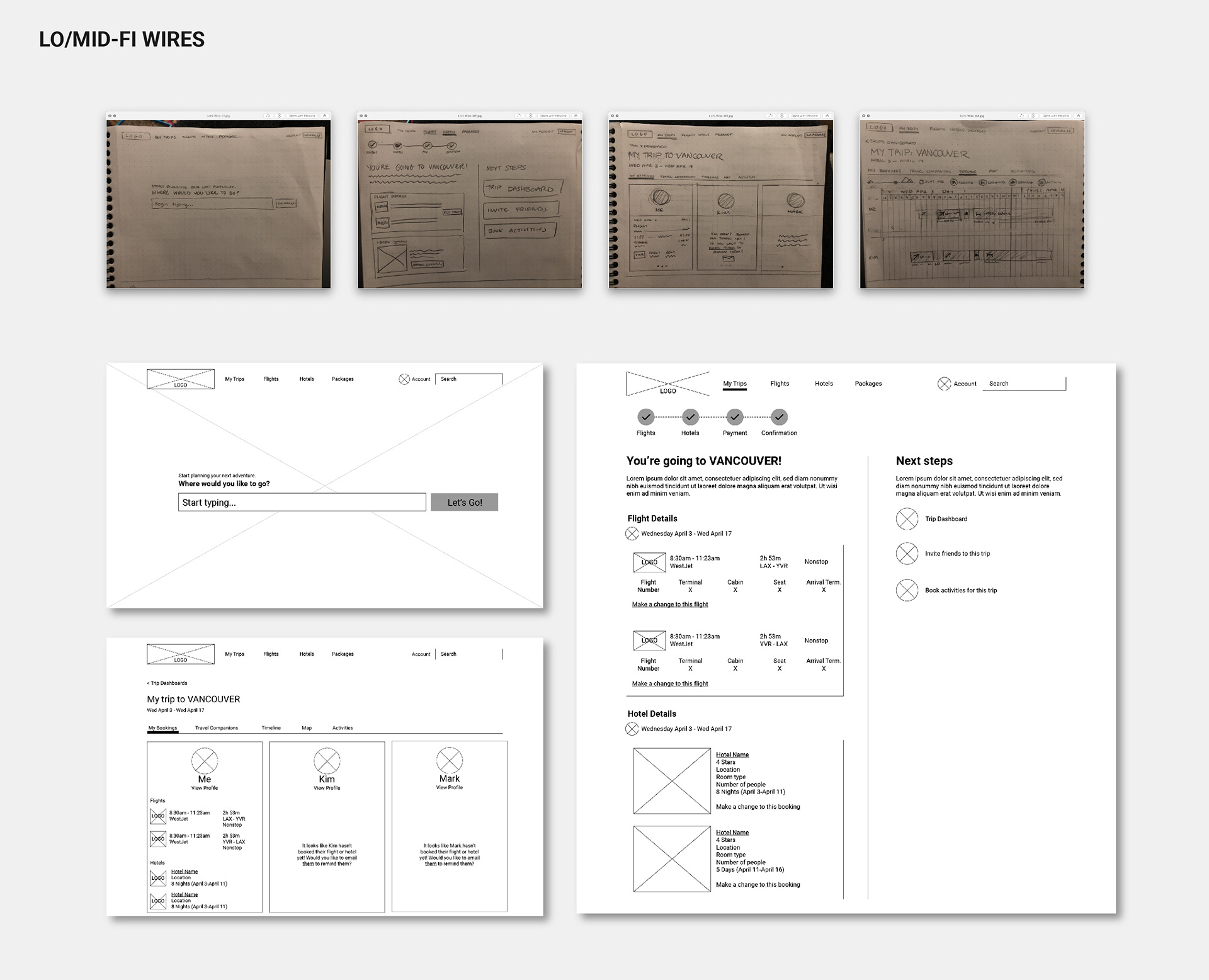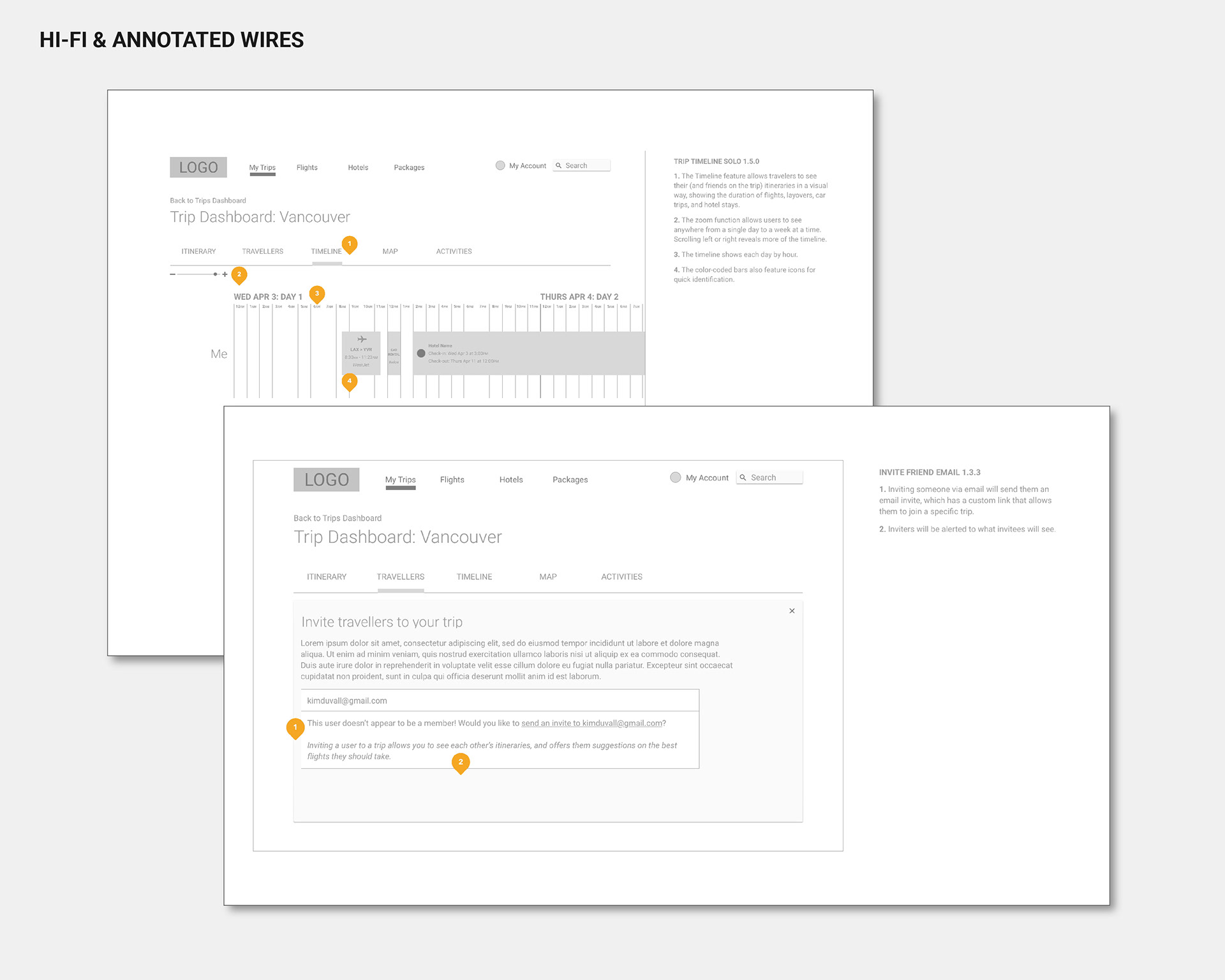 Unit 5 & 6: functional invision prototype and user testing

After building hi-fi wireframes in Sketch, it was time to build a functional prototype in InVision to test with users. The prototype wasn't especially fancy or incredibly functional, but it was enough to give users the chance to test the app I had initially shown them as rough sketches and cards.